WELCOME TO ZOLOTAS BRIDAL!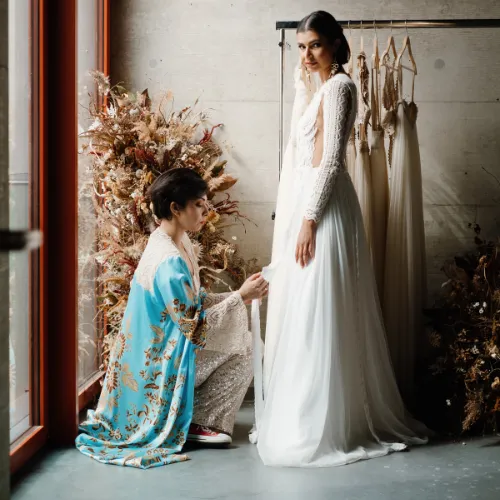 Where Greek Heritage Meets Modern Swiss Style

Zolotas Bridal is a wedding boutique in Berikon, Switzerland, that offers unique, handmade wedding dresses made with 100% cotton that incorporate Greek heritage and modern Swiss style.

Today, Zolotas Bridal is more than just a dress shop. It's a place where brides can come to tell their story and create their own unique wedding day look.

Our exquisite collection of haute-couture wedding dresses is specifically crafted to incorporate Greek heritage and originality. From the moment you step into our boutique, you'll be transported to a world of elegance and sophistication.
bride wearing a Zolotas Bridal wedding dress

Our team of experienced stylists will help you find the perfect wedding dress to match your unique style and personality. Whether you're dreaming of a classic ball gown or a more modern silhouette, we have the perfect wedding dress for you.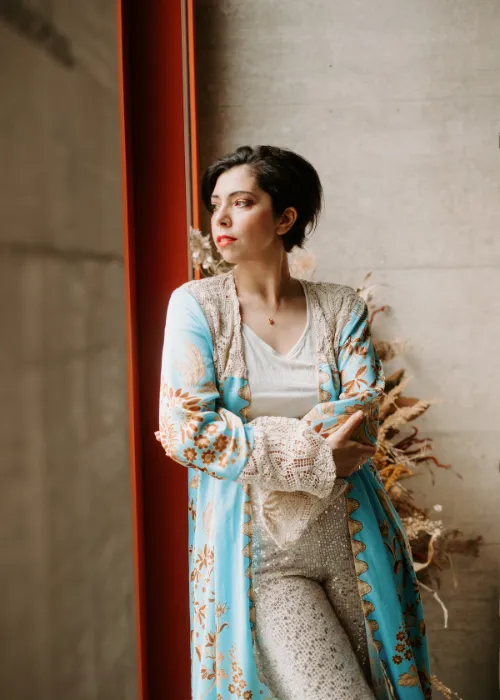 I, Maria, the owner of Zolotas Bridal, started the boutique in 2020 after falling in love with the designer, Vg Zolotas's, vision and passion for creating exquisite, sustainable wedding dresses.

After meeting with the designer in Greece and experiencing his work firsthand, I knew that his bridal collection was a must-have for Swiss brides. A few months later, I successfully launched Zolotas Bridal inside our family farm, combining my passion for wedding traditions with my own Grecian heritage.

At Zolotas Bridal, we believe that every bride deserves to feel like a princess on her wedding day. That's why we offer a personalized service from start to finish. We'll help you choose the perfect wedding dress, make sure it fits perfectly, and ensure that you look and feel your best on your special day.

I invite you to visit Zolotas Switzerland today and experience the magic of Greek heritage meets modern Swiss style in our unique, handmade, 100% cotton wedding dresses.

Book your appointment today!
How do I make an appointment?
Just call us at +41 77 433 9862 or send us an email at
[email protected]
. You will then receive an appointment confirmation from our team.
How long does a fitting appointment take?
We want you to feel comfortable and enjoy your appointment. Each bridal appointment is of 120 minutes duration.
What should i prepare and wear to my appointment?
We recommend that you wear nude or light colored underwear and a strapless bra if possible. We also advise that you wear as little makeup as possible, to protect our handmade gowns while you are trying them on. Finally, do not forget to bring shoes of the desired heel-height that you would like for your big day!
How many guests can accompany me in my appointment?
You can invite two guests who will support you in your choice. Please contact us if you would like to bring more people with you.
What is the price range for the Wedding Dresses?
You can find dresses in the price range from CHF 1,700 to 6,000.
What Dress sizes are available in the Zolotas Collections?
All of our dresses are specifically tailored by hand to the bride's exact body measurements, ensuring their perfect fit.
When should i order my wedding dress so that it arrives in time for the Wedding?
The completion of your wedding dress usually takes between 3 to 6 months from the fitting date. Express orders are possible in special cases with an extra charge.
Are the adjustments to my Dress included in the price?
Small adjustments to make your dress fit perfectly are already included in the price. Bigger changes to the dress will be charged separately.
Yes, to reserve your dress we require a non-refundable deposit of 50% of the price.